Description
Female Led Relationship Matchmaking Service for Men
Are you tired of daydreaming about a Female Led Relationship, browsing websites for stories and being disappointed by dating sites? You want a Loving Female Led Relationship with a woman who understands the importance of being a powerful leader and you are ready to stand by her side. No more going on dates with submissive women who will do anything to please you. You're tired of women who don't know what they want. You want a woman who will take the reigns for you and for your relationship and you're likely to meet her when you join our FLR Matchmaking program.
When you join our Loving FLR Matchmaking Service you will be personally guided by the EXPERT on Loving Female Led Relationships who will prepare you for your very own Loving FLR.
We have taken the time to invite the most powerful women we could find. These women have been personally interviewed and educated on the art of creating a successful Loving FLR. They are ready to guide you and allow you to be the man you truly want to be. If you are ready to serve, we have women who respect your type of love.
When you join the Loving FLR Matchmaking Service you will enjoy:
Private discussion of your personal goals and relationship issues
Dates arranged for you every month with women interested in Loving FLRs
Structured education that will transform you into a man of value who is ready for a Loving FLR
Program begins
April 5th

and ends

April 29th

.

Women interested in participating in our Loving FLR Matchmaking Service please apply HERE.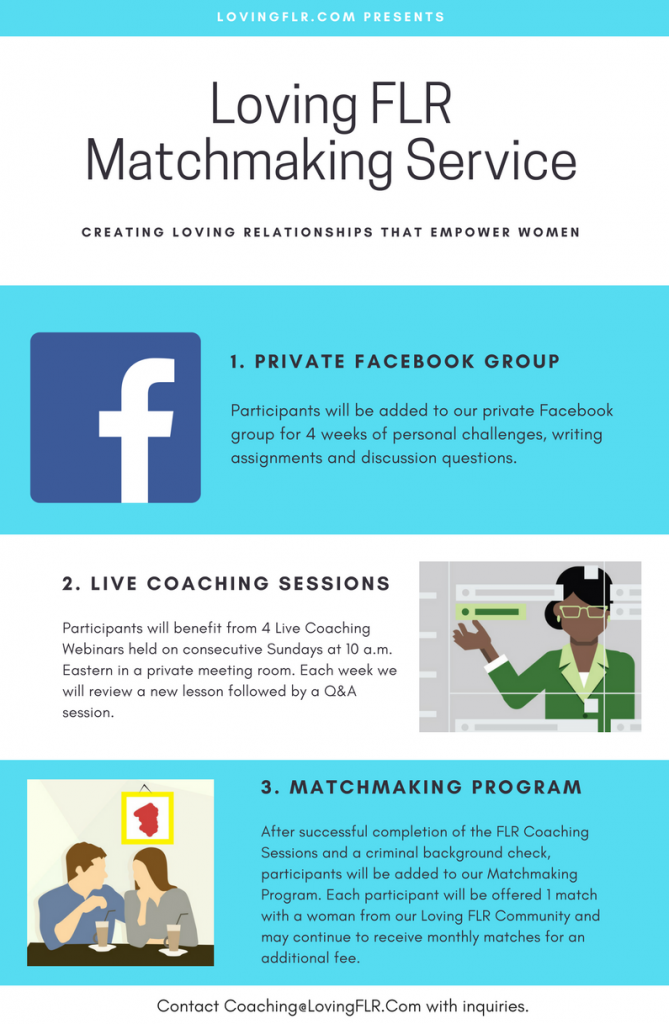 Secret Facebook Group
Participants will be added to the SECRET Facebook Group for Men on 2/8 to receive the first assignment.
Participants will be given 1 assignment per week to be shared in the private Facebook group.
Discussion questions will also be posted in the Secret Facebook group during the week.
4 Live Coaching Sessions
Week 1 – Identifying as a Gentleman in a Loving FLR
Week 2- Winning the Battle with Your Ego
Week 3- Identifying and Attracting Potential Partners
Week 4- How to Be Supportive As She Grows Her Power
Matchmaking Service
After the successful completion of the Coaching Program, Gentlemen will be automatically enrolled in the Matchmaking Program. Each Gentleman will receive 2 matches during the first month of the program.
Each match is personally vetted and selected by the Loving FLR Matchmaker. Geography, interests and personality traits are all factors that are considered based on information gleaned from dating profiles each participant must submit.
The FLR Matchmaker will arrange a date with the matches to meet through a private online meeting room (using voice or video). Matches will be introduced and given our signature icebreaker assignment. The Loving FLR Matchmaker will then leave the participants to complete the icebreaker assignment and to have casual conversation.
After the introduction meeting both participants will be invited to complete a friendly recap questionnaire about their interaction. These recap questionnaires are private and will never be publicly posted or shared with anyone, not even the participants. Portions of the recap questionnaire may be shared with participants if necessary.
These evaluations are not to be seen as judgments, but as healthy feedback for pursuing future dating options and will allow the Loving FLR Matchmaker to make more accurate matches in the future. At the end of the recap questionnaire, participants may opt to meet again or rematch.
After the initial 2 matches Gentleman may continue to receive matches with women from our Loving FLR Community for an enrollment fee of $97 per month. Gentlemen are guaranteed at least one new match per month of enrollment and may cancel their enrollment at any time.
Additional Notes To Consider
Federal Background Checks are required for all Gentlemen enrolled in the Matchmaking Program. No violent or sexual offenders allowed. Background check fees are included in the service fee. No additional charges will be applied.
Failure to successfully complete the required assignments during the Loving FLR Coaching Program for Men may result in immediate dismissal. There are no refunds at any time.
We make no guarantees that there will be a perfect love match or that there will be a match in your immediate geographical area but we will try our best to grow our roster and introduce you to the best women our Community has to offer. 
Frequently Asked Questions
Can I participate in the Matchmaking Program without going through the 4 Week Coaching process?
No. All male participants must be coached in the art of creating a successful Loving FLR.
If I am with a woman in the program, do I have to be associated with it for longer than the program? 
You may opt out of the Matchmaking Program at any time.
If I do a woman's evaluation, will it be too difficult for her?
If you are honest and polite, it should not be difficult for her. She will only see portions of the recap that we deem important and useful for her to know. Everyone benefits when they look at the recap questionnaire as offering loving feedback to a friend.
Will charges for the monthly Matchmaking membership fee be automatically deducted from my account once the Coaching Sessions are over?
Yes. You will enroll in our automatic payment plan which includes one free trial month where you will be matched with 1 (one) woman seeking a Loving FLR. After the month has ended you may choose to continue in the program and match with more women or opt out.
Where are the women coming from?
Most of the women enrolled in the Loving FLR Matchmaking Service are women who are a part of the Loving FLR Community, are subscribed to our blog or have participated in our Loving FLR Leadership Coaching Program. All women are personally interviewed prior to being accepted into our program.
What if there are no women near me to match with?
Friendship and love have no boundaries. We will do our best to match you with someone near you but there may be a time when that is impossible. In this case we ask that you be open to meeting an amazing woman and making a new friend despite the distance. All relationships built around friendships can become much more if you release your demands and allow it.
Can you guarantee that I will find a match in your program?
There are no guarantees that you will find a love match in our program but we will guarantee that you will be matched with at least one woman each month that you are enrolled. Luckily we already know that you will have at least one thing in common- You BOTH want a Loving FLR. That takes a lot of the pain away from traditional dating.
Do women pay to be a part of the Loving FLR Matchmaking Program?
Women do offer an initial application fee as a way to demonstrate their sincere interest in participating in the program.
Is there any way that I can be kicked out of the Loving FLR Matchmaking Program?
During the Coaching portion of the Loving FLR Matchmaking Program you will be given weekly assignments to turn in. If for some reason you cannot complete your assignment and you do not let us know in advance, you will receive a warning. After more than one assignment missed you will be removed from the entire program.
During the second half of the Program after you have successfully completed the Coaching sessions, the only way you will be kicked out of the Loving FLR Matchmaking Program is by being disrespectful to a woman or a staff member or being arrested for a violent or immoral crime.
Am I required to attend all 4 of the Live Coaching Sessions to complete the program successfully?
Absolutely not. We understand that life happens. The Live Coaching Sessions are for your benefit. You get to ask questions and receive feedback on your assignments. If you must miss a Live Coaching Session it will be recorded and posted in our online school for you to access during the program if you request access. After the program is over you will no longer have access to the recordings so it is best to be present during the Live presentations to get the most out of the program.
Any other questions? CoachingatLovingFLRdotcom