Description
I will find you a date who wants a Female Led Relationship as much as you do!
Are you tired of daydreaming about a Female Led Relationship, browsing websites for stories and being disappointed by dating sites?
When you join our Loving FLR Matchmaking Service as a PREMIUM MEMBER you will be personally guided by the EXPERT on Loving Female Led Relationships who will prepare you for your very own Loving FLR.
After years of building a solid reputation as the only site that caters to intelligent men and women who appreciate Loving FLRs without kink,  we have taken the time to invite the most powerful women and amazing Gentlemen we could find to participate. These women and men have been personally interviewed and educated on the art of creating a successful Loving FLR. They are ready to connect with you and allow you to be the partner you truly want to be. If you are ready to lead without being hindered or you are ready to serve while being appreciated, we have candidates who respect your type of love.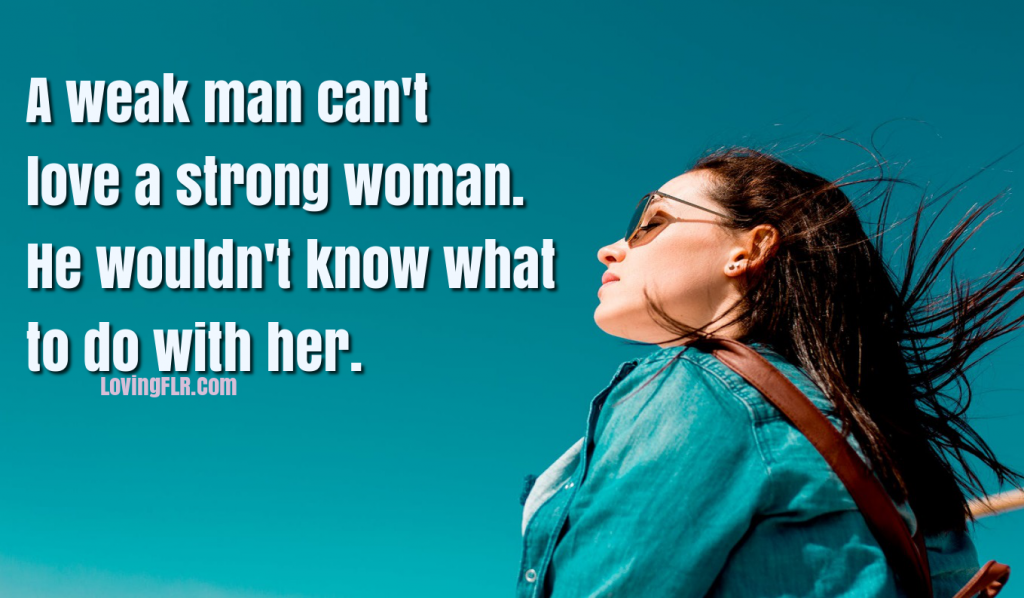 When you join the Loving FLR Matchmaking Service you will enjoy:
1 GUARANTEED Match with Someone Who Wants a FLR Just As Much As You Do
Private discussion of your personal goals and relationship issues
Cyber Dates arranged for you every month with a suitable partner interested in Loving FLRs
Structured education that will ensure that you are ready for a Loving FLR
START TODAY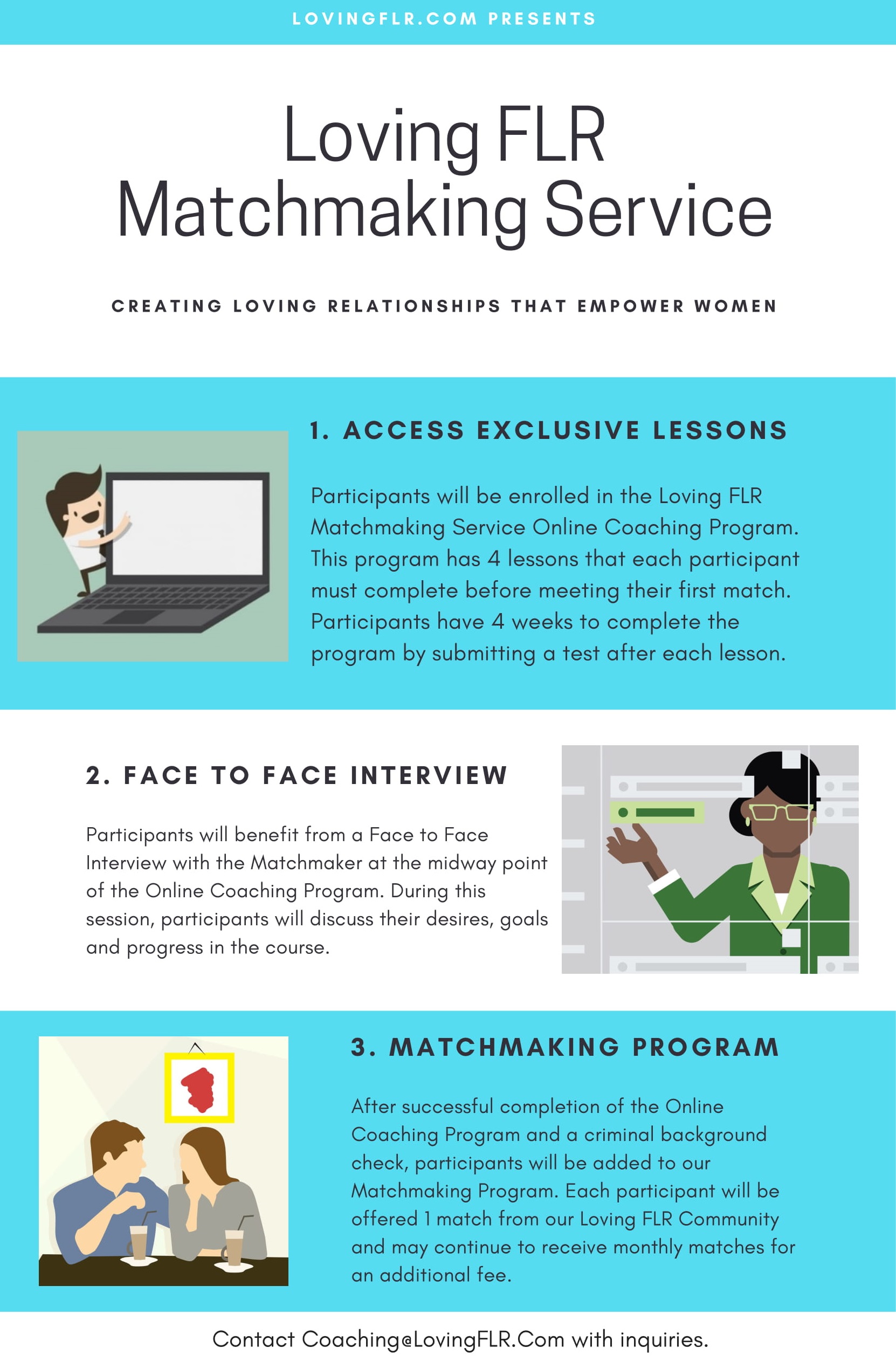 ACCESS EXCLUSIVE LESSONS
The Loving FLR Academy, our online school, hosts the Matchmaking Service Online Coaching Program where students can access the 4 lessons needed to complete the Coaching Program at any time, day or night. The 4 Lessons are presented as video presentations and reading assignments. After reviewing each lesson, students are asked to complete and submit a written test based on the lesson. The student can move through the entire program at their own pace as long as they complete all of the lessons and tests before a 4 week deadline.
Matchmaking Men's Coaching – Premium Member Study Program
Lesson 1 – Identifying as a Gentleman in a Loving FLR
Lesson 2- Identifying and Attracting Potential Partners
Lesson 3 – Winning the Battle with Your Ego
Lesson 4- How to Be Supportive As She Grows Her Power
Matchmaking Women's Coaching – Premium Member Study Program
Lesson 1 – Identifying as a Goddess in a Loving FLR
Lesson 2- Identifying and Attracting Potential Partners
Lesson 3 – Leading With Confidence and Integrity
Lesson 4- How to Define Your FLR
FACE TO FACE INTERVIEW
At the midway point of the 4 Week Coaching Program, the student will be prompted to book a 30 minute Face to Face Interview with the Matchmaker to discuss their progress in the course and goals and desires for a Loving FLR. The student will also be quizzed on the information that has been presented thus far in the program.  This is a web based live video interview conducted through a private web conference room. You will be required to use video on this day.
MATCHMAKING SERVICE
After the successful completion of the 4 Week Coaching Program, students will be automatically enrolled in the Matchmaking Program. Each candidate will receive 1 match during the first month of the program.
Each match is personally vetted and selected by the Loving FLR Matchmaker. Geography, interests and personality traits are all factors that are considered based on information gleaned from dating profiles each participant must submit.
The FLR Matchmaker will arrange a date with the matches to meet through a private online meeting room. Matches will be introduced and given our signature icebreaker assignment. The Loving FLR Matchmaker will then leave the participants to complete the icebreaker assignment and to have casual conversation.This meeting will not be recorded.
After the introduction meeting both participants will be invited to complete a friendly recap questionnaire about their interaction. These recap questionnaires are private and will never be publicly posted or shared with anyone, not even the participants. Portions of the recap questionnaire may be shared with participants if necessary.
These evaluations are not to be seen as judgments, but as healthy feedback for pursuing future dating options and will allow the Loving FLR Matchmaker to make more accurate matches in the future. At the end of the recap questionnaire, participants may opt to meet again or rematch.
After the initial 1 match the candidate may continue to receive matches for an enrollment fee of $97 per month. Candidates are guaranteed at least one new match per month of enrollment and may cancel their enrollment at any time.
ACCESS ALL CLASSES IN THE LOVING FLR ACADEMY
During your month-long Coaching Program you will have access to ALL of the classes in the Loving FLR Academy to review at your leisure.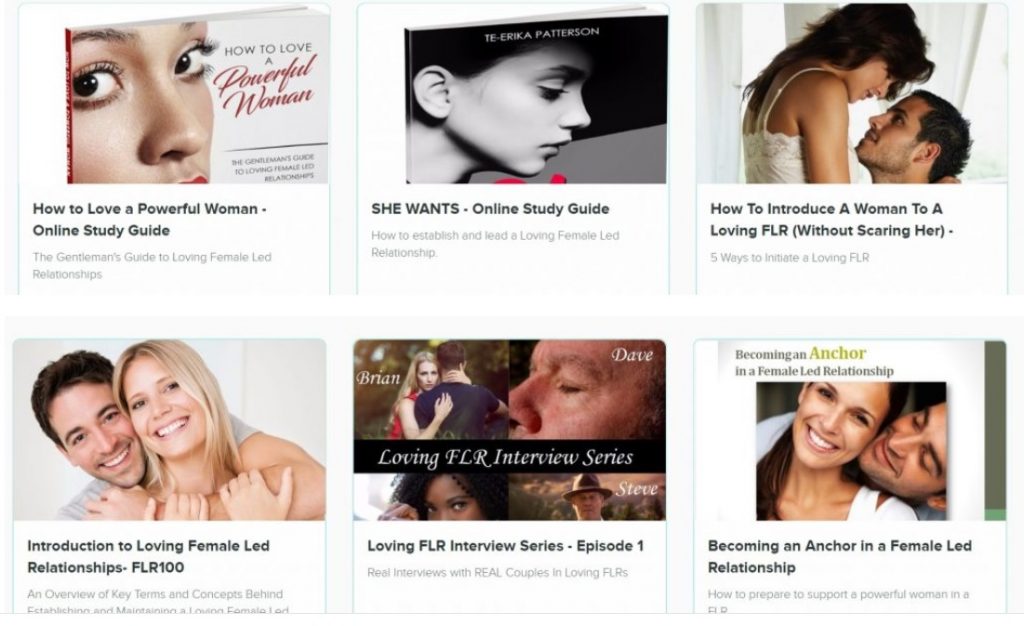 **Additional Notes To Consider
ALL Premium Members must be willing to participate in long distance dating and must be willing to travel to date at their own expense, if they meet someone they are interested in.
Federal Background Checks are required for all candidates enrolled in the Matchmaking Program. No violent or sexual offenders allowed. Background check fees are included in the service fee. No additional charges will be applied.
Failure to successfully complete the required assignments during the Loving FLR Coaching Programs may result in immediate dismissal. There are no refunds at any time.
We make no guarantees that there will be a perfect love match or that there will be a match in your immediate geographical area but we will try our best to grow our roster and introduce you to the best candidates our Community has to offer. 
Frequently Asked Questions
This program seems expensive. Why is that?
The Better Business Bureau noted that the average cost per person to use a matchmaking service is $5,000 — and some people spend as much as $10,000. The FLR Matchmaking Service is the only one of its kind. It is designed for people who want a caring professional dedicated to introducing them to matches who want the exact relationship that they have been craving. If the desire is strong enough, the price is worth it.
Can I participate in the Matchmaking Program without going through the 4 Week Coaching process?
No. All participants must be coached in the art of creating a successful Loving FLR.
If I am with someone in the program, do I have to be associated with it for longer than the program? 
You may opt out of the Matchmaking Program at any time.
If I do not like my first match, do I have to pay for another match?
If you are not a good match for your first match, you may ask to be introduced to another match for the MATCH ME fee listed on the payment options tab. You may be introduced to as many matches as you like, WHEN you want one or when someone joins the program who suits your profile. There are no automatic fees.
Can we schedule a call to talk so that I can ask questions about this program?
No. If your question has not been answered on this page, use the EMAIL US tab at the bottom of the screen to list your questions in one email and you will receive a response within 24 hours. Unfortunately, due to the high number of emails received, I will be unable to correspond back and forth so be sure to include all of your questions in one email.
If I do an evaluation, will it be too difficult for the person?
If you are honest and polite, it should not be difficult. Your match will only see portions of the recap that we deem important and useful to know. Everyone benefits when they look at the recap questionnaire as offering loving feedback to a friend.
Will charges for the monthly Matchmaking membership fee be automatically deducted from my account once the Coaching Sessions are over?
No. You will be matched with 1 (one) woman seeking a Loving FLR during your first month in the program. After the month has ended you may choose to continue in the program and receive more matches for an additional fee. Charges will not automatically be deducted.
Where are the matches coming from?
People who enroll in the Loving FLR Matchmaking Service are a part of the Loving FLR Community, are subscribed to our blog or have participated in our Loving FLR Coaching Programs. When you clarify what you are looking for, we go through our roster to find the perfect matches for you and we also reach out to general community members and our readers and subscribers to find more potential matches based on location and interest. There is no end to lengths we will go to in order to find a great match for you.
What if there is no one near me to match with?
Friendship and love have no boundaries. We will do our best to match you with someone near you but there may be a time when that is impossible. In this case we ask that you be open to meeting and making a new friend despite the distance. All relationships built around friendships can become much more if you release your demands and allow it.
The FLR Classes are included. Am I required to take all of the classes and pass them to participate in the program?
No.  The FLR Classes are for your personal knowledge. You will be asked about the principles in the MATCHMAKING Course only. The other classes are for your education and enjoyment. You will not be quizzed on them.
Can you guarantee that I will find a match in your program?
There are no guarantees that you will find a love match in our program but we will guarantee that you will be matched with at least one person each month that you are enrolled. Luckily we already know that you will have at least one thing in common- You BOTH want a Loving FLR. That takes a lot of the pain away from traditional dating.
What will happen during the Face to Face Interview? Is it a test?
This is a web based live video interview. You will be interviewing with Te-Erika, the Publisher of LovingFLR.Com. Please come dressed and ready for an official interview. Please dress appropriately in a nice outfit and ensure that your video camera is turned on and your microphone works. We will discuss the lessons presented, you will be quizzed on some of the most important points in the lectures and you will be asked to describe your ideal partner. This is not a test. This is your time to share what you are truly looking for in  a partner so that we can find the best matches for you.
Am I required to join a group?
No. There is no group component to this program.
Is there any way that I can be kicked out of the Loving FLR Matchmaking Program?
You will be removed from the Loving FLR Matchmaking Program for failure to communicate and respond to the Matchmaker, disrespectful or aggressive behavior or communication towards anyone involved in the program or failure to honor commitments. You will be automatically disqualified from the Loving FLR Matchmaking Program if your background check has violent or sexual criminal offenses.
What kind of assignments are due and can I complete them all at once?
During the Coaching portion of the Loving FLR Matchmaking Program you will have to submit written tests after viewing each lesson. You have 4 weeks to complete all 4 Lessons. Since the lessons are presented online you may access them at any time. You may complete all of the lessons in one day if you wish, but you will still need to wait until the complete 4 weeks have passed before you will meet your first match.
The lessons in the Coaching portion are designed to signify that you understand the principles behind a Loving FLR so that I can vouch for you when connecting you with matches. Each lesson is a video presentation that lasts on average 10 minutes.
Will you find partners who are a match for my sexual related kinks?
A Loving FLR is not about fulfilling your sexual needs or matching your kinks.
This Matchmaking is not a dominatrix or femdom service. Fulfilling a man's need to be dominated or servicing his kinks is not offered here.  We focus on creating relationships that support the fulfillment of a woman's goals and her ideal relationship. We match men who want to be connected with Powerful Women who know what they want and will not settle for less.
Do I get to see photos of my matches before I am matched with them? Can I specify matches by age, race or location?
We will not share any photos or identifying information except for occupation, age and location before the cyber dates are scheduled. That's what makes it exciting! One thing you WILL know is that this person wants a Loving FLR very much. This program is for people who like meeting new people who are supporters of the empowerment of women!
When I meet my first match, will our online meeting be recorded? I am sensitive about my identity being revealed publicly.
We use a platform called ZOOM to schedule our CyberDates. Your meeting will never be recorded and the person you are matched with will not know any information about you, besides your name, unless you offer it. If you are hesitant about the privacy of your meeting, you can always reach out to ZOOM and ask them about their policies for recording meetings or storing your information.
Becoming a GENERAL MEMBER
If you are a woman interested in becoming a GENERAL member of the FLR Matchmakin Service to be added to the roster of possible matches, apply HERE. Becoming a GENERAL member does not guarantee a match, it simply confirms that you are available if a PREMIUM member is interested in someone like you. You will only be contacted if a PREMIUM member is a good match for you.
Any other questions? CoachingatLovingFLRdotcom