Description
If you are ready to learn more about Loving Female Led Relationships you have found the right resource. You no longer have to surf the internet dodging porn and femdom sites, hoping for a legitimate and professional website that offers the best inspiration and information for how to create a real life Female Led Relationship.
Loving FLR Devotion Newsletter has the information you have been looking for. I invite you to subscribe to the Loving FLR Devotion Newsletter which is delivered to your inbox TWICE per week.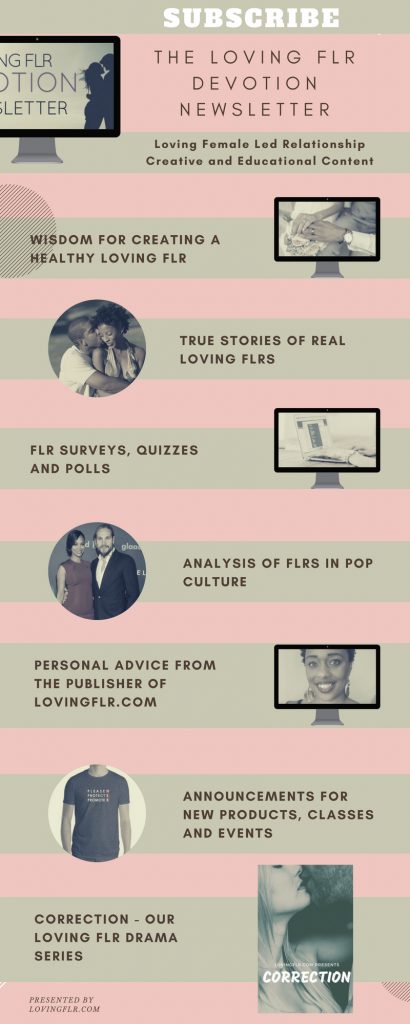 When you subscribe to the Loving FLR DEVOTION Newsletter you will receive wisdom, guidance, information and inspiration that will help you to understand, accept and enjoy your Loving FLR lifestyle.
With new content being delivered at least twice per week, you will be exposed to enough information to digest, discuss, put into action and celebrate your desire for a Loving FLR.
For pennies per day, Loving FLR DEVOTION subscribers will enjoy exclusive content like:
Lessons for becoming a Powerful Woman
Lessons for becoming a better supportive partner
Reminders for Loving FLR's new blog posts
FLR Personality quizzes
True stories of REAL FLRs
Announcements for new products, classes and events
Exclusive wisdom that will ONLY be shared with DEVOTION subscribers
FLR FICTION stories delivered ONLY to DEVOTION subscribers
FLR Surveys
FLR Book/Movie Reviews & Recommendations
Exclusive Discount Codes for products on FLRStyle.Com
Access to webinars exclusively for DEVOTION subscribers
AFTER the free trial has ended DEVOTION subscribers will be added to the Loving FLR Private Social Community for as long as their subscription is active!
ADD YOUR PROFILE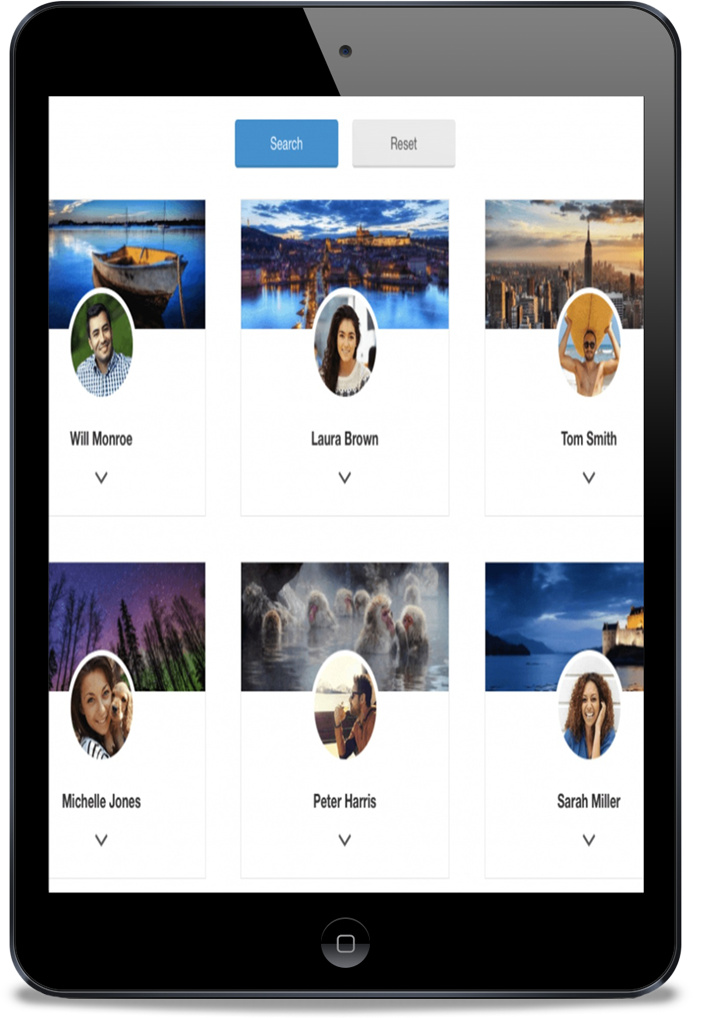 Active Subscribers will receive the
Loving FLR Soap Opera –
CORRECTION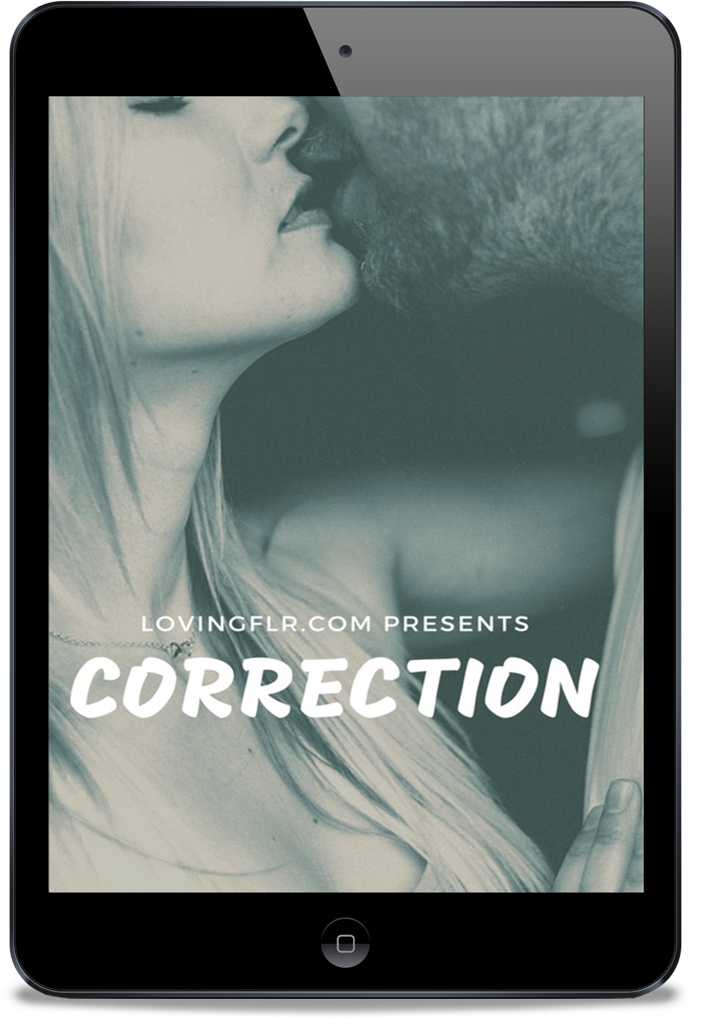 This on-going dramatic fiction teaches the principles behind establishing Loving FLRs. The series features characters interacting in real Loving FLRs, or at least trying to. For as long as you remain a DEVOTION subscriber, you will receive updates on the lives of the residents of Franklin Courtyard, a housing community that is filled with love, lust, drama and mayhem as the temperatures rise and fall.
Meet Ava– She's a smart woman who is a fierce boss that commands respect at her boutique. She is in love with Anthony and she will do anything to get him to love her back.
Meet Anthony– He's a stable, kind-hearted man with a few secrets in his past that he thought were dead and buried. He loves Ava, but he recognizes that something is missing from the relationship and it may take a new face in the crowd to help him understand what he truly yearns for.
Meet Joanna– She's new to the Franklin Courtyard and she has her mind on her money and her money on her mind. She's a gypsy type of woman, with no holds barred when it comes to her career and men, yet, there is someone whose voice takes her breath away and she doesn't know how to escape.
This FLR Soap Opera explores:
The poor qualities that women express that turn men away
How men can benefit from a Loving FLR
Why the influence of friends can hurt a relationship
How men treat women when they actually respect them
What makes a man respect a woman
How a woman can lead a relationship effectively
How men push women away
The differences between being dominant at work and being dominant at home
What it will take for a woman to finally stand up and become a Goddess
Check out these REAL Comments from current CORRECTION subscribers.
I think the "lurker" is Anthony's work nemesis. A potential blow up is coming when Ava comes home with Jay and Anthony shows up. Love the character build up. love the fact that there are characters that I can relate to in situations I often find myself in! Awesome!!"
We are enjoying your story a lot and would like to continue reading. Thanx for your trouble and effort."
its so boring and all over the place. I stopped reading. Sorry!"
This is getting very intriguing."
You are a terrific writer. The 

plot

 

thickens

. Looking forward to part 6."
I don't think her declaration of her love for him weakens her position. I actually think it takes a strong woman to express their true feelings. I agree their attraction is undeniable in bed. — But what I think is that Ava has to show her assertiveness outside of the bedroom."
Loving FLR DEVOTION subscribers get these FLR stories in their inbox every single week along with the rest of the inspirational FLR content!
It's time to SUBSCRIBE!
You can cancel at any time.
Frequently Asked Questions
Q: Is there a refund policy for this newsletter since it is neither a product, class or a service?
A: This Newsletter is a product and a service. I have to take the time to organize it, create it and send it out. There is a 2 Week FREE TRIAL period where you can sample the content and see if you would like to remain on the list. You can always cancel before your subscription begins if you do not like the content. There are no refunds at any time.
Q: If we do not choose to subscribe, will we still have access to the Loving FLR blog posts?
A: Yes, the Loving FLR blog will remain public and will be updated periodically. There are hundreds of blog posts already posted for the public and you may peruse them using the links I offer during the 2 Week FREE TRIAL period. The Loving FLR DEVOTION Newsletter is for those who want more content than the Loving FLR blog offers, as well as discount codes, surveys, exclusive stories and behind the scenes announcements. This Loving FLR DEVOTION Newsletter is a chance to invest in your passion for Loving FLRs.
Q: If I choose to cancel my subscription, what will happen to my membership in the Loving FLR Community?
A: Your Community profile will be deleted once your subscription is no longer active.
Q: How often should I expect to receive the newsletter?
A: The DEVOTION Newsletter will be delivered to your inbox at minimum TWICE per week.
Q: May I send in requests for topics to be covered or for personal advice about my situation?
A: Yes! All subscribers may write in with topic suggestions or personal questions and they will ALL be answered inside the private newsletter. They will never be published publicly on the blog. All questions sent in by non-subscribers will be published in the private newsletter as well.