Description
Hey guys…
Are you single and want a Loving FLR? Are you married and crave it, but while your woman shows signs of maybe wanting to be in charge, she doesn't stick with it? Are you frustrated, looking for the answer to the question–
Why don't I have a Loving Female Led Relationship?
You believe you are the perfect man willing and able to take care of a woman's needs. You want structure, purpose and peace of mind as you enjoy watching the woman you love be happy and confident.
The reason you don't have a Loving Female Led Relationship is because of YOU. You're not ready. You need more time. You need to learn to send clear signals about what you want in everything you do. You need to make sure she knows she is your Goddess. You need to know what kind of woman to date and who to kindly break up with. Even if you're married, you can help your Goddess become the strong leader you KNOW she wants to be.
But it starts with YOU.
In just 4 weeks, I will give you the tools you need to find and maintain a strong, Loving FLR. You'll benefit from being a part of a mixed group of single and married men because the principles of being a supportive partner are the same on the first date as they are on the 50th anniversary. I will show you how to :
1. Be kind
2. Let her lead
3. Support her strength while maintaining your own
4. Give input and knowledge without threatening her leadership
5. Ensure that your needs are met by meeting her needs
This program is only for men who are serious about finding and maintaining a lifelong Loving Female Led Relationship. Don't sabotage what you want most by fumbling around in the dark, reading articles and not having a strong woman to support your Loving FLR journey. Help develop her strength from the first moment you meet through decades of the love you both crave and deserve.
You will be surprised to find out:
-A woman wants to take control, if you allow it
-The pressure you put on developing a Loving Female Led Relationship is the reason why you don't have one
-You can have a Loving Female Led Relationship with ANY woman
And if you have a super smart woman, why you should never request a Loving Female Led Relationship!
Single men will learn:
-How to identify the right woman
-3 questions to ask when you first meet her
-The biggest mistakes you don't know you're making
Married men will learn:
-1 What's behind her hesitation to begin a Loving FLR
-2 The one question you can ask her that will spark her desire for a Loving FLR
-3 Why a Loving FLR is the best example you can have for your children
Will you work? YES. Every week you'll get an assignment to complete that will challenge your perspective of Female Led Relationships including personal challenges that will make you get up and DO something about the areas you need to improve.
Every week is a LIVE Coaching Session with ME. And I am all about helping YOU get what YOU want by making sure SHE always has what SHE wants.
You think you're ready for our Loving FLR Matchmaking Program? No. I'm not pairing you up with anyone until I know YOU are ready and YOU KNOW YOU'RE READY. Don't blame women for being bitter. Don't blame the dating pool. Don't insist that there are no women in your town who would want a Loving FLR. Look at yourself first and when you are ready for her, she will SEE IT IN YOU!!!
Married? Don't give up. You know those glimmers in your wife that turn you on and make you want to literally lift her up and place her on a pedestal? You WILL make those occasional glimmers turn into a permanent shine! Don't give up. Don't blame her. When you learn to be the man she can trust 100%, she will blossom into the leader of your relationship right before your eyes.
After 4 weeks of private work and group coaching sessions with me to guide you and lead you and show you how to act with a strong woman, you will be ready to date a new woman or to date your wife again.
Give me 4 weeks.
Fully invest your time, your energy, your heart. Be vulnerable and honest with me and the other hand-selected men in the group, and see how your whole life changes.
4 LIVE COACHING SESSIONS
Week 1- Identifying as a Gentleman in a Loving FLR
Week 2- Winning the Battle With Your Ego
Week 3- Structuring Your Loving FLR
Week 4- How to Empower a Powerful Woman
Choose your own schedule for this 4 week program as long as the dates are consistent.
The investment is $1500. Only 6 men will be accepted and a complete application is required so I can ensure a safe, supportive environment for you to be yourself and transform into your best self and best partner for the Loving FLR you've always dreamed of.
Be CERTIFIED as a Gentleman in a Loving Female Led Relationship. Earn your credentials and show the world that you are devoted to the woman you love and FEMALE EMPOWERMENT.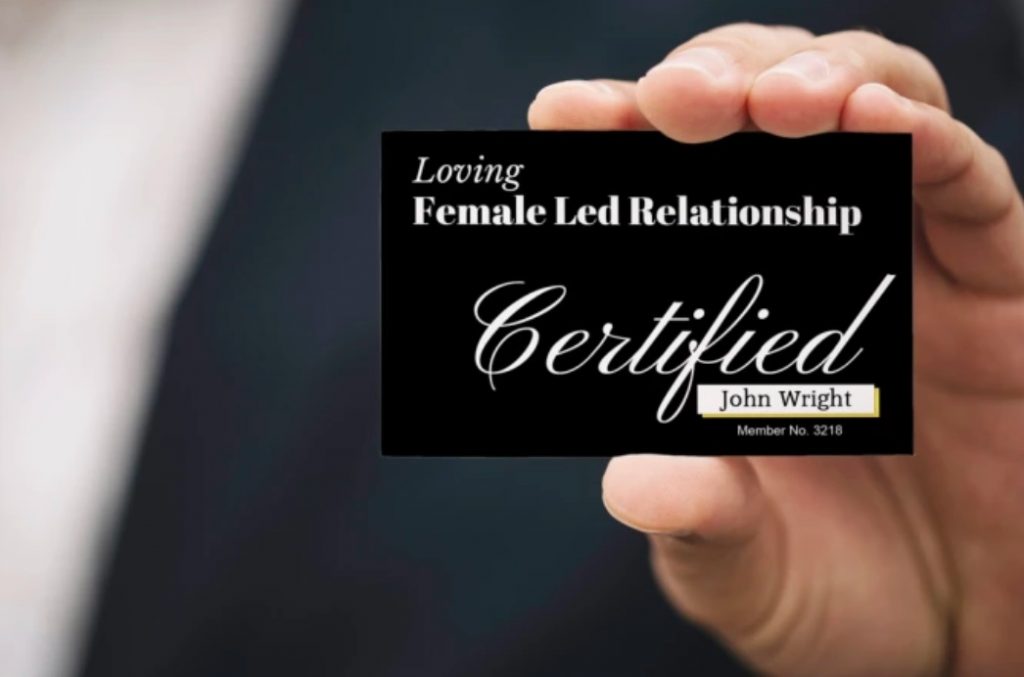 Each Gentleman will receive this custom card with his name and a unique member ID number upon successful completion of the Coaching Program.
Note***
LIVE CLASSES will be recorded so members who miss a class can review the lessons privately.
Materials needed for this class are: Internet Access, Facebook Profile, Working Computer with Speakers and Monitor
There are no refunds for this program.
You may choose your own schedule for this 4 week program as long as the dates are consistent.